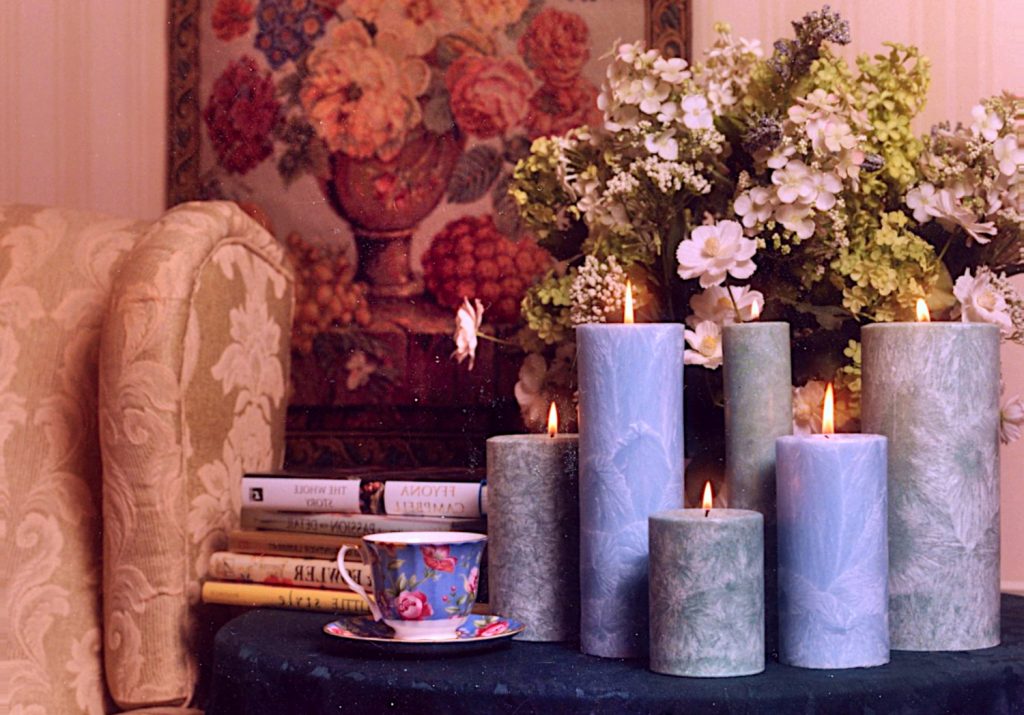 Description
Palm wax is known to be a superb material for candle making. It is hard and has high contraction thus making demoulding and colouring easier, reflecting lights well and has a very attractive ivory-like surface.
We have developed our palm wax-making techniques where we can break to process our raw palm oil constituents and blend them to produce candle waxes each having its own basic characteristics of melting point, hardness, burning time, opacity, while still remaining them as 100% natural palm wax.
Our palm wax blend possesses beautiful surface finish, excellent burning qualities and colour stability. Our range of specially blended 100% palm wax is easy to work with. They present exciting possibilities for fulfilling your discerning standards of quality as well as your expressions of beauty and style.
It is vegetable-based wax from sustainable and renewable source, clean-burning and environmentally friendly. We have a range of crystal waxes to suit all applications including tapers, pillars, votives, tea lights, floaters and container candles.
Palm Waxes 5801 A
| | |
| --- | --- |
| Slip Melting Point, ℃ | 58.0 – 65.0 |
| Application | Suitable for votive and pillars of 2 inches diameter and above. |
Palm Waxes 5701 A
| | |
| --- | --- |
| Slip Melting Point, ℃ | 56.0 – 60.0 |
| Application | Suitable for votive and pillars of 2 inches diameter and above. |
Palm Waxes 5601 A
| | |
| --- | --- |
| Slip Melting Point,℃ | 56.0 – 60.0 |
| Application | Suitable for votive and pillars of 2 inches diameter and above. |
Palm Waxes 5501 A
| | |
| --- | --- |
| Slip Melting Point, ℃ | 52.0 – 58.0 |
| Application | Suitable for container candles, votive and pillars of 2 inches diameter and above. Advisable to use tapered mould due to small shrinkage property. |
Palm Waxes 5401 A
| | |
| --- | --- |
| Slip Melting Point, ℃ | 52.0 – 58.0 |
| Application | Suitable for container candles with crystal finish. |
Palm Waxes 5401 C
| | |
| --- | --- |
| Slip Melting Point, ℃ | 60.0 – 66.0 |
| Application | Suitable for votive and pillars of 2 inches diameter and above. |
Palm Waxes 5401 D
| | |
| --- | --- |
| Slip Melting Point, ℃ | 57.0 – 60.0 |
| Application | Suitable for votive and pillars of 2 inches diameter and above. |
Palm Waxes 5301 A
| | |
| --- | --- |
| Slip Melting Point, ℃ | 54.0 – 57.0 |
| Application | Suitable for container candles with crystal finish. |
Palm Waxes 1701 A
| | |
| --- | --- |
| Slip Melting Point, ℃ | 54.0 – 57.0 |
| Application | Suitable for tapers, votives and pillars of 2 inches diameter and above. |
Palm Waxes 1601 A
| | |
| --- | --- |
| Slip Melting Point, ℃ | 54.0 – 57.0 |
| Application | Not suitable for candles by itself but a very reliable wax for blending with other waxes for making many types of candles. |
Palm Waxes 1505
| | |
| --- | --- |
| Slip Melting Point, ℃ | 50.0 – 60.0 |
| Application | Suitable for powder pressing technique into pillars, tea-lights and votives. It is very reliable wax for blending with paraffin for making different candles. |
Palm Waxes 1301 A/B 
Slip Melting Point, ℃

55 Max

Application

Suitable for tea-lights and votives.
1301A- for plain & unscented candles
1301B- for coloured & scented candles